MindFest Brings Families and Community Together
By Emilia Ismail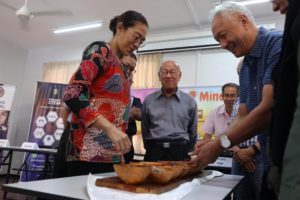 Seri Delima state assemblyman Syerleena Abdul Rashid (in red) playing a round of congkak with Penang STEM chief executive officer Ang Lye Hin.
In conjunction with the school holidays, members of the public are invited to participate in the MindFest Program happening from 28 November to 18 December 2018 at the Penang Math Platform, Jalan Kaki Bukit, Bukit Gelugor.
Organised by Penang Math Platform, a founding member of Penang STEM, MindFest aims to foster the love for mathematics and develop critical thinking skills through play-based learnings. The event features traditional thinking games, Rubik's cube competition, brain games for seniors, mental arithmetics multiplication contest, memory skills workshops, chess competition and bridge.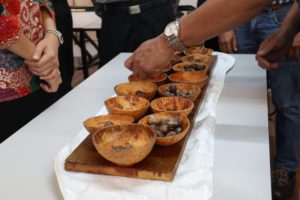 The traditional thinking games event features traditional games such as congkak (pic), batu seremban, tangrams and rangoli. This particular set of congkak was handmade by the hardworking staff of Penang Math Platform.
Newly-minted director of Penang STEM, Seri Delima state assemblyman Syerleena Abdul Rashid, officiated the event.
According to Syerleena, education is the foundation of the nation. "Exposing children to STEM-related subjects through fun-learning activities and workshops stimulate their minds. It translates to how they interact with others, which is a necessary part of nation-building.
"But what is great about MindFest is there are programs for senior citizens too. Most countries tend to overlook the welfare of the seniors because the focus is always on the younger generation.
"Penang Adventist Hospital will be conducting a health screening and talk, while Innotree Elite Resources will be conducting exciting brain games to stimulate the mind. Keeping the mind active is one way to keep the seniors healthy," said Syerleena.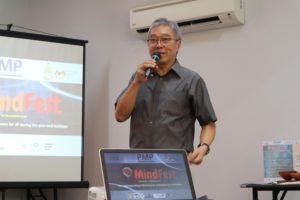 Penang Math Platform general manager Richard Chung.
Speaking about the event, Penang Math Platform general manager Richard Chung commented, "MindFest is all about learning mathematics through fun and games. Many students claim to hate math due to deep-seated mathematical anxiety.
"We are encouraging children and adults to develop the love for mathematics through fun and engaging mind games and interactive workshops. Hopefully, we can remove the anxiety to encourage the participants to continue learning math.
Penang STEM chief executive officer Ang Lye Hin said Penang STEM and its six STEM centres are focusing on relationship building to complement the centres' mission.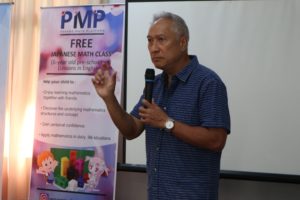 Penang STEM chief executive officer Ang Lye Hin
"When people talk about STEM, people think about science, technology, engineering and mathematics. However, there is one very critical element that is in shortage today that will become even more critical in the future, and that is relationship.
"With the onslaught of social media and the fact that more parents are working, it destroys relationships. Children today cannot form meaningful relationships. They get addicted to social media. They get their highs from the Facebook likes and Instagram double-taps, which are all very artificial.
"Everything requires collaboration to work effectively in teams," said Ang.
Ang also said Penang Math Platform is extending its facilities to the senior citizens to encourage relationship building between the elderlies and their grandchildren.
"Our classrooms are empty in the morning. There is also a huge catchment of seniors here. Many seniors are looking after their grandchildren.
"So bring your grandchildren here to build a meaningful relationship. In the process, teach your grandchildren how to compute, to think and to work effectively," Ang said.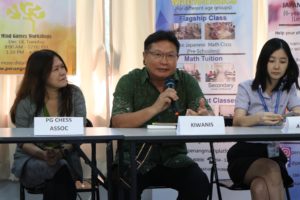 (From left) See Swee Sie, TL Goh and Ya Hui
Sharing Ang's sentiment is TL Goh from Kiwanis Club of Penang Central. "The corporate world is vicious. Getting into the corporate world without building relationships with your peers and the folks in the management team will be a tough journey," he said.
Meanwhile, Raja Samsuddin from the state education department said although the students in Penang may have won many awards in local and international STEM-related competitions, the department wants to focus on increasing participation. "Events such as MindFest motivate more students to participate, and the department is happy to support this event."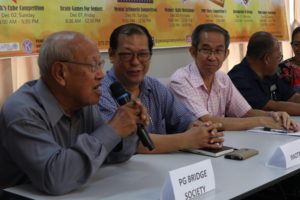 (From left) Tan Sri Dr Chin Fook Weng shared his experience in bringing the game of bridge to Penang while KT Ng and CH Ng looked on.
See Swee Sie from Penang Chess Association said the organisation is proud to be a part of the MindFest program, where chess is also promoted as a mind game, "Chess helps students to focus and develop strategic thinking skills. We encourage all students and adults to learn and support the game of chess," she said.
CH Ng from Mental Arithmetic Association said the purpose of the mental arithmetic competition is to encourage students to learn mathematics, especially the times tables. "Competitions motivate students to learn the times tables better than learning on their own. Hopefully, by the time the competition is over, the children have mastered the times tables," he said.
KT Ng from Innotree Elite Resources said his team will be conducting memory games and workshops for children, adults and seniors. "The games will be in the form of problems and puzzles to test computation, observation, memory and logic skills. It will help students to understand better and to remember longer, and help working adults and senior citizens to go about their daily tasks.
"The chairman of Malaysian Memory Sports Organisation are invited to conduct the memory workshop. He is also the first Malaysian memory master," he said.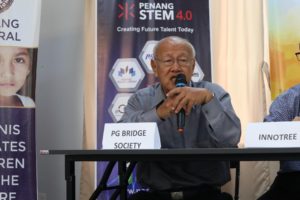 Tan Sri Dr Chin Fook Weng
Putting the spotlight on bridge, a popular game among the more senior members of society, Tan Sri Dr Chin Fook Weng from Penang Bridge Club wants the community to overcome the prejudice against the game. "Unfortunately, bridge is often misconstrued as a form of gambling because it involves cards. Deng Xiaoping, the leader of China, was purged in the Chinese cultural revolution because he was playing bridge. As for me, I had to bail out many of my students in Universiti Sains Malaysia when the security guards took them in for gambling.
"In a more enlightened society such as in India, the game of bridge is taught in schools. India is producing many top researchers in the world because they have gotten a good head start. Indonesia has started introducing bridge in schools.
"With this little exposure in MindFest, I hope that our country will one day become a promoter of this game and will go on to produce top regional players.
"But we need to overcome the prejudice. This game is not a gambling game; it merely promotes mental stimulation," the former lecturer at Universiti Sains Malaysia said.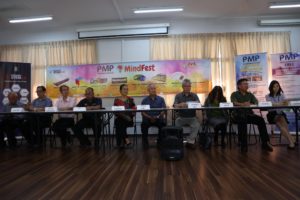 (From left) Tan Sri Dr Chin Fook Weng (Penang Bridge Club),  KT Ng (Innotree Elite Resources), CH Ng (Mental Arithmetic Association), Raja Samsuddin (Penang state education department), Syerleena Abdul Rashid (Seri Delima State Assemblyman), Ang Lye Hin (CEO Penang STEM/Penang Math Platform), Richard Chung (General Manager, Penang STEM/Penang Math Platform), See Swee Sie (Pg Chess Association), TL Goh (Kiwanis Club of Penang Central) and Ya Hui (Penang Adventist Hospital)
The MindFest event is supported by Penang Chess Association, Penang Bridge Society, Mental Arithmetic Association, Innotree Elite Resources, Penang Adventist Hospital and Kiwanis Club of Penang Central, with the endorsement of the Penang state government and the Penang state education department.
Registration for MindFest is now open.
Interested participants can register at https://penangmathplatform.com/